Products &
Services
Information
---
The Company
---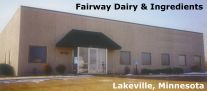 Fairway Dairy and Ingredients LLC is one of the fastest growing and most progressive trading companies in the United States. We help companies get the most for their products and eliminate the need for costly sales and purchasing divisions. We provide services to dairy and distributing companies who need an extended sales force and to companies who need help in procurement.

Experience
In just over two years our 20 plus years of experience has quickly made us a single source supplier of dairy and animal feed. Fairway Dairy and Ingredients has the experience and ability to supply products and ingredients to the industrial, dairy processing, manufacturing, cut and wrap, and food service industries. From domestic, imported, industrial, wide-spec, annual contracts, Fairway Dairy and Ingredients has the ability to service all your needs.

Partnership
In association with Fairway Dairy LLC, located in the heart of cheese making country, Fairway Dairy and Ingredients offers warehousing, sorting, repackaging, and cheese reclamation. Fairway's WDCA license and close relationship with the USDA makes Fairway Dairy an ideal destination for your cheese cleaning or further packaging needs. With 90,000 square feet of manufacturing and warehousing space Fairway Dairy has the ability to do all your specialized contract work to your specifications. All of Fairways employees are trained to follow Good Manufacturing Practices (GMP). You can rest assured your companies individual business will remain confidential with Fairway Dairy and Ingredients and Fairway Dairy.